Rogue team earns high marks in nationwide skills competition for waste collection personnel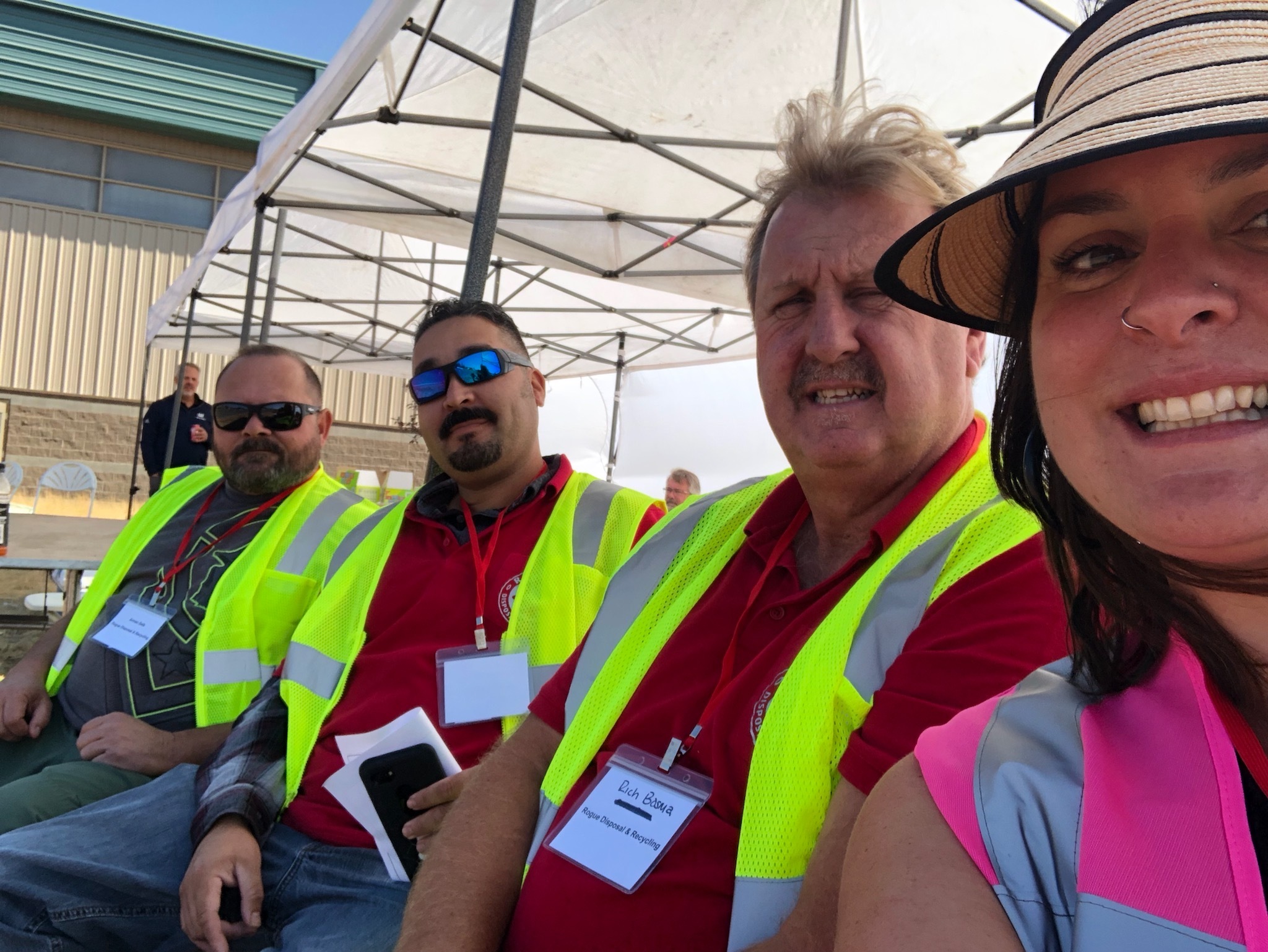 There are rodeos. And then there is the Road-E-O — competition specifically designed to test the skills and finesse of waste collection drivers and equipment operators across the country.
The SWANA Road-E-O is an annual event that promotes safety and skill in the solid waste industry. Front-line employees show off their on-the-job skills operating machinery, driving trucks, and maintaining and repairing equipment. SWANA — the Solid Waste Association of North America — first puts on competitions at the state and regional level, with winners advancing to a national competition. This year's Beaver Chapter Road-E-O, held September 9 and 10 and the Knott Landfill in Bend, Oregon, featured participants from Oregon, Washington and Idaho competing in two separate divisions — landfill equipment and collection trucks.
Team Rogue fields a strong roster
At this year's regional event, three Rogue Disposal & Recycling drivers and two equipment operators from Dry Creek Landfill were on hand to compete.
Arman Seib brought it home as the top driver overall, in addition to taking first place in the roll-off division. Samuel Sanchez took third place in the front-load competition and was the only front load driver to make it through the "off-set" obstacle and the straight-line test where drivers had to keep their duels in-between cups with tennis balls on them — with only 2 inches to spare on either side. And while Rich Bosma didn't place, he did an amazing job on short notice, stepping in at the last minute with very little time to prepare.
On the equipment operator side, Glade Neilson took first in hydraulic excavator and third in articulated front-end loader, giving him top operator overall in this division. Josh Hesse was close behind, taking first place in landfill compactor and second place in hydraulic excavator.
Highly skilled experts put their skills to the test
All competitors completed a written test, a pre-trip inspection, and either a driving obstacle course or a yellow-iron obstacle course. Winners were determined by the highest combined score for the day's events.
In both the waste trucks and the landfill categories, contestants came from waste organizations from across the Pacific Northwest. The SWANA Road-E-O provides front-line employees with the opportunity to network and take in educational opportunities, all with an air of friendly rivalry.
So what did the competition look like? For drivers, there was a series of seven events to complete. One event, for example, was a serpentine around barrels that tested the driver's ability to maneuver the truck in and out of tight places — both forwards and backwards. Each driver started with 50 points, but lost 5 points every time they stopped and lost 15 points if they hit a barrel or crossed the curb line of the street. For landfill operators, there was also a series of seven events to complete. As an example, one event had drivers maneuvering through barrels placed 4 to 8 inches wider than their machine without coming in contact with the barrels or mounds of soil that had been distributed on the course — and the end of the machine they were driving had to completely clear the barrels in order to earn points.
Support from the sidelines
Along with the Rogue Disposal & Recycling drivers and Dry Creek Landfill operators competing in the two-day competition, a trio of volunteers from the company were on hand in Bend volunteer and support their team, pitching in wherever needed and "having a fantastic time!"
Congratulations to all the competitors. And to Arman Seib, Glade Neilson and Josh Hesse, best of luck at nationals in El Paso, Texas!