Thanks to everyone who drove up and dropped off their household toxins!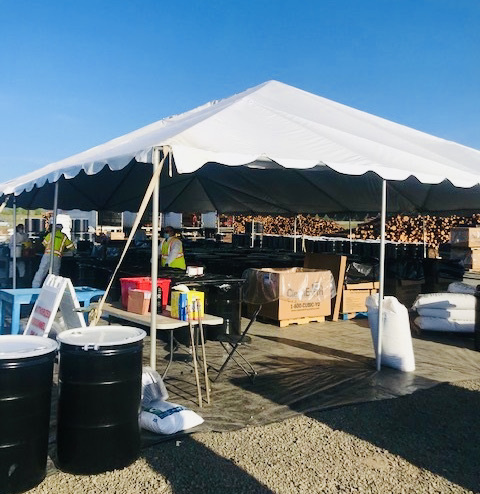 Our 30th annual Household Hazardous Waste event is in the books — and it was a huge success! Thanks to area residents, we collected a gross weight of approximately 51,860 pounds That's nearly 26 tons of everything from cleaning supplies, bleach and drain cleaner to garden chemicals, weed killer, bug spray and more — all handled safely and professionally by the specially trained team from Clean Harbors, a national leader in hazardous waste management.
First up was Conditionally Exempt Generator (CEG) Day, available to business and industrial accounts in Jackson and Josephine counties. On Friday, May 7, we processed a total of 19 CEG businesses — including some area high schools, getting old and potentially volatile chemicals out of the classroom. A big thanks to all the businesses that applied and turned out.
Then on Saturday, May 8, it was a full day for dropping off household hazardous waste. A total of 568 vehicles showed up at the Transfer Station, safely dropping off their household toxins. It's a great way to get potentially dangerous chemicals out of your home — and keeps them out of the solid waste stream. Thanks to everyone who came out and took advantage of this yearly event.
In order to make the event as safe as possible for both customers and staff, we waived the $5 per vehicle fee this year as a way to further reduce contact. And even though we had to eliminate the reuse table — a popular feature of previous Household Hazardous Waste events — we hope to bring it back in the future.
A team effort

Pulling off a regional event like this is no small task. According to Denise Barnes, Recycling and Community Outreach Coordinator at Rogue Disposal & Recycling, "There are so many details that have to come together — from preparing the site before the event and traffic control the day of the event to making sure we have cold drinks for people working the event, it takes a tremendous amount of planning, coordination and hard work to pull off this community-wide event every year. We have a tremendous team and they made this event the success it was!"
Now that the annual event is over, what do I do with my unwanted household hazardous waste until next year?

Since it will be another year until our next annual event in Jackson County, you can also attend the fall event in Josephine County. Until then, just store your unwanted cleaning supplies, bug spray, varnish, pool chemicals and other household hazardous waste items somewhere safe and out of reach for children and pets — preferably in a locked cabinet or area that's inaccessible. Avoid extreme heat or cold and keep in a well-ventilated area.