Thanks to you, curbside recycling has gotten cleaner!
One year after we rolled out our refocused curbside recycling program, the results are in. And thanks to you, it's working!
Tackling the issues head on
Because of issues with contamination in the recycling stream, global markets for a number of items we used to accept at the curb no longer exist — with the once-massive Chinese market for recycling materials virtually gone. So we refocused our curbside program on materials we know CAN be recycled. This includes corrugated cardboard, milk jug style containers and newspaper, plus tin and aluminum cans.
Corrugated Cardboard
(the kind with the wavy center, no pizza boxes)
Milk Jug Style Containers
(clear or white, rinsed out, no lids)
Newspaper and Inserts
(no magazines)
Tin and Aluminum Cans
(rinsed out, no lids)
Commingled clean-up is working
After a series of recycling audits, it's clear that customers like you have taken the message to heart and have adapted your recycling practices accordingly. We have been able to successfully find domestic markets for the materials we're collecting. Here's a comparison showing how things improved over the first nine months: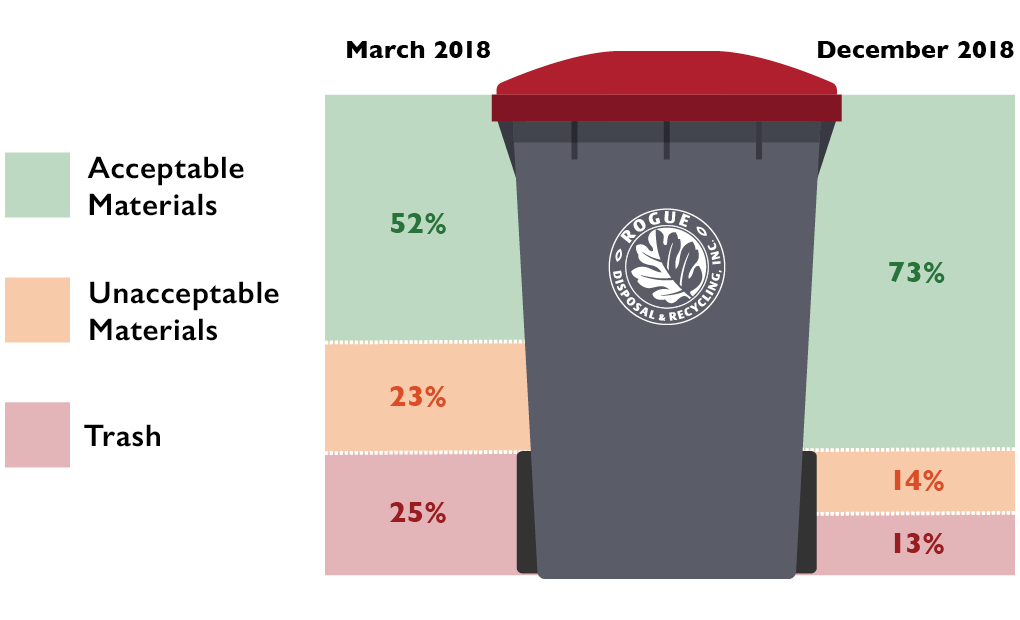 Making a positive difference

Global markets for recyclable materials will likely remain unstable for years. But as long as our curbside commingled recycling stream stays as clean as possible, we will continue to find domestic markets for the materials we accept.
Removing key contaminants
When doing our quarterly recycling audits, we noticed the same contaminants showing up in the roll carts — five materials that can really mess up the commingled recycling stream. Please do NOT put any of these items in your recycling roll cart:

No plastic bags

no loose bags and don't put your recyclables in a plastic bag
plastic bags jam the recycling machinery

No pizza boxes

pizza boxes contain food waste and grease, making them a contaminant

No freezer boxes

the chemical wax-like coating designed to protect the food inside these boxes means they can't be recycled

No glass in the curbside recycling cart

glass breaks, and the pieces stick to and contaminate other materials
recycle at the Transfer Station or glass depots

No trash

trash can make it so otherwise good materials can't be recycled
make sure trash goes in the trash cart, not the recycling cart

Additional recycling options beyond the curb
At the Transfer Station
Remember, you can still recycle select plastic bottles at the Transfer Station. The neck of the bottle must be smaller than the base, the type of plastic has to be a 1 or a 2, and the bottle should be rinsed clean, with no cap.
These are the only plastic items that will be accepted:
#1 PET
water bottles
sports drink bottles
2-liter pop bottles
salad dressing containers
vegetable oil bottles
juice bottles
#2 HDPE
detergent bottles
bleach bottles
fabric softener bottles
vinegar bottles
shampoo and conditioner bottles
You can also recycle glass bottles and jars (any color, up to 1 gallon in size with no lids) and high-grade office paper at the Transfer Station only.
At Grocery Store Glass Recycling Depots
You can drop off glass bottles and jars — any color, up to 1 gallon with no lids — for recycling at Rogue Disposal & Recycling glass depots in the parking lots of several area businesses:
Ray's Food Place (Central Point, Jacksonville, Phoenix)
Sherm's Food4 Less (Medford)
Sherm's Thunderbird (Medford)
Rogue Credit Union (East Medford Branch)
At the BottleDrop Center
You can take your redeemable beverage containers — glass, plastic and aluminum — to the BottleDrop Redemption Center in Medford where they're worth 10¢ each.