Taking the guess work — and waste — out of holiday meals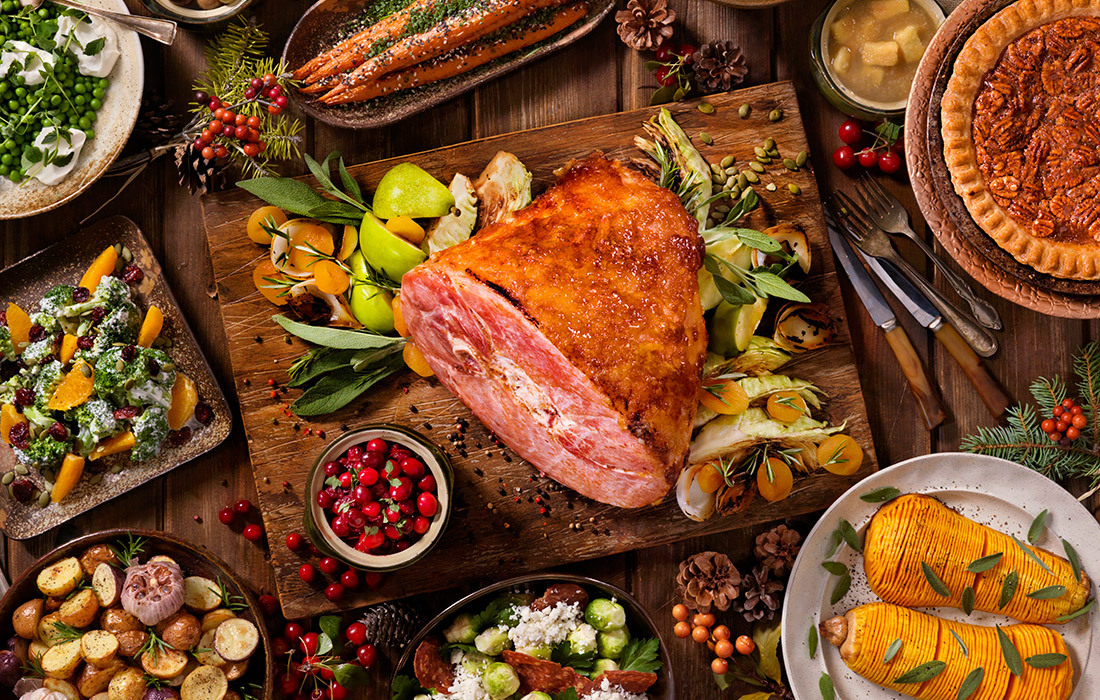 Ah, the classic traditions of the holiday meal. The cranberry sauce and chestnut stuffing at Thanksgiving. The candied yams with marshmallows at Christmas. The black-eyed peas and greens (both thought to bring good luck!) on New Year's Day. And the heaping piles of homemade food so big that a good percentage of it goes to waste. Every year, approximately 200 million pounds of turkey meat are thrown out over the Thanksgiving holiday week alone. Not to mention the resources behind the meat — enough water to supply New York City for 100 days and a carbon footprint equal to 800,000 cars driving from New York to San Francisco.
Planning for a feast
Feeding a large group can be a challenge. And leftovers the day or two after the holiday are great, but you want to avoid having to throw out a stockpile of past-due food a week later. The best way to stop food waste is to prevent it from the start. Planning the right amount of food is hard.

That's where the Guest-imator comes in. Developed by the National Resource Defense Council (NRDR), the Guest-imator is a dinner party calculator that estimates how much food you need to keep your guests full and happy — including leftovers — without any additional waste.
Here's how it works: First, you enter the number of people you're expecting — with numbers for small, average and big eaters. Next, enter the number of leftover meals you want. Then select the type of meal it is — from classic dinner party to backyard barbeque. Finally, build your menu by dragging photo icons onto the dining room table. It's that easy! Click "finalize menu" and you'll see how much of each menu item you need. Print your menu to complete the process.
https://www.savethefood.com/guestimator
Maximizing the big meal
Here are a trio of additional tips for making the most of the food you serve while minimizing any food waste.
Be prepared for leftovers. Knowing you will have leftover turkey (or ham or whatever you're serving), make sure you have the other ingredients you need for leftovers on hand — like bread for sandwiches.
Share the bounty. Make sure to have containers on hand to send your guests home with leftovers. Better yet, go totally waste-free and ask them to bring their own containers.
Use your freezer. If you haven't eaten all the turkey, mashed potatoes and stuffing within two days after the feast, freeze it. Then when you're hungry for another leftover sandwich — a week, a month, even two months later — simply reheat and enjoy.
Working to waste less on your meals every day
Big holiday meals may be some of the most food wasteful days of the year. But food waste is a problem that needs to be addressed every day. In the United States, up to 40% of all food goes uneaten each year. Forty percent! That adds up to an annual cost of $218 billion dollars — or at least $1500 for every average family of four. That also results in massive amounts of wasted water, climate pollution, landfill use and other environmental damage.
Yet ironically, one in every eight Americans — more than 40 million people — don't have a reliable supply of food. A recent NRDR report studies food waste in three cities and found that more than 68 million meals a year could be donated to people in need in those three cities alone — showing enormous potential nationwide. In cities and towns across the country, citizens are working with local leaders to direct more surplus food to their neighbors who need it most.
Making the most of our food supply has wide-reaching benefits. The holidays are a great time to think about ways we can reduce waste at our own table.