Tackling the Top 3 contaminants
In order to find markets for commingled recyclable materials, it's crucial that the materials be as contaminant-free as possible. That's why right now, the only materials that can go in your red-lid recycling cart are milk jug style containers, mixed waste paper, along with tin and aluminum cans. So what happens when the cart includes a couple of greasy pizza boxes? Or a big glass pickle jar that break when the truck picks up the cart? What happens to the rest of the recyclables when garbage gets dumped in with the recycling? In most cases, that entire cart-full of recycling has to be disposed of. Or worse — if that cart load contaminates other cart loads, a lot of potentially recyclable materials can no longer be recycled. That's why it's so important to recycle right.
The better the recycling stream, the better the recycling results
When performing random recycling audits on the materials coming in from our curbside commingled recycling program, we noticed the same contaminants showing up in the roll carts — three materials that can really mess up the commingled recycling stream. Here's a look at the Top 3 contaminants — including the background on why they belong in the black-lid trash cart and not in the recycling.
Removing the Top 3 Contaminants
No Plastic Bags: No loose plastic bags of any kind can go in your recycling cart, and please don't put your other recycling inside a plastic bag either. Plastic bags jam the recycling equipment.

No Freezer Boxes: The chemical wax-like coating designed to protect the food inside of freezer boxes means they can't be recycled. So freezer boxes belong in the trash.
No Garbage: Sounds simple enough — trash goes in the trash cart. Yet more than 10% of what we find in the recycling cart is trash. When in doubt, throw it out rather than contaminating the recycling stream.
Collecting the materials we can recycle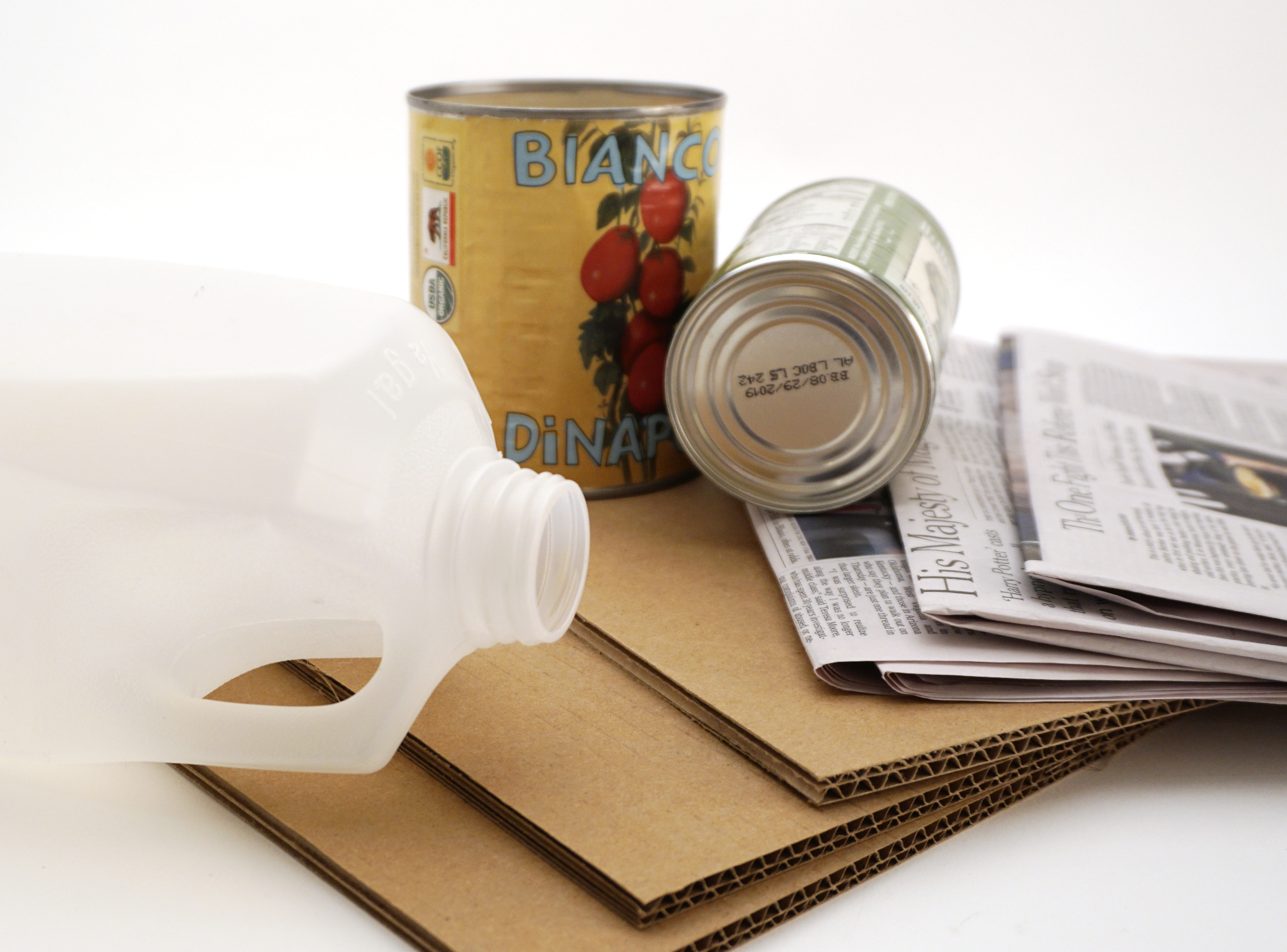 Our goal is to recycle as much of the materials we collect as possible. So when China — long the world's largest market for recyclable materials — essentially restricted the import of most waste materials from foreign countries last year, we quickly adapted by finding a handful of domestic markets willing to accept specific recyclable materials. But in order for the American processors to accept the materials, they have to be as contaminant-free as possible. That's where you come in! By making sure only plastic bottles and jugs labeled as #1 and #2, corrugated cardboard, mixed waste paper, tin cans and aluminum go into your curbside recycling cart, we have a much higher chance of making sure those materials are all properly recycled.
Additional recycling options beyond the curb.
Knowing there are some types of materials that can only be sent to market for recycling if they are kept separate from the curbside commingled recycling stream, we added glass-only recycling depots at local grocery stores to keep breakable glass away from other materials. And finally, we established special recycling areas at the Transfer Station where anyone can drop off the same items we accept curbside, as well as glass bottles and jars, mixed waste paper, and plastic bottles and jugs labeled as #1 and #2.
At the Transfer Station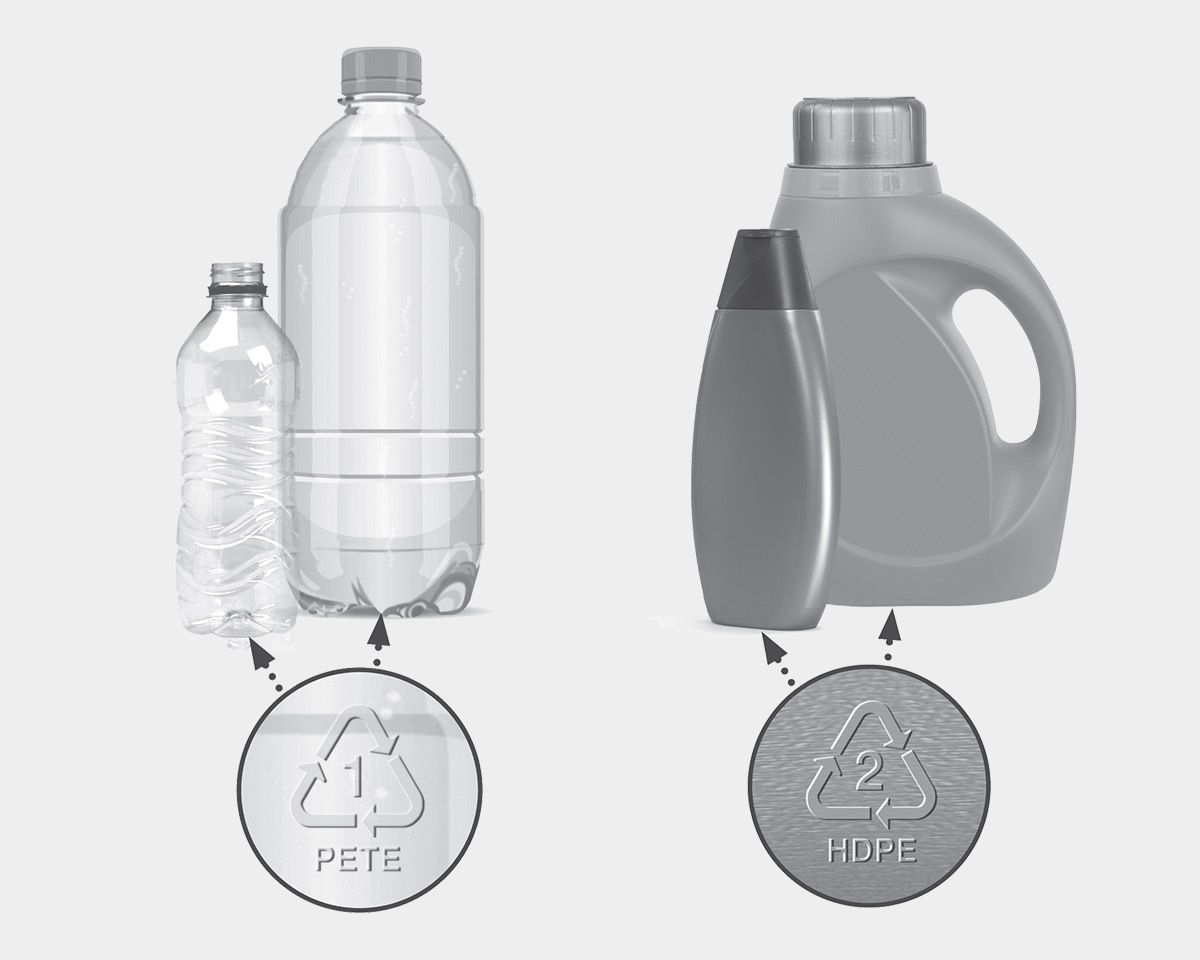 Remember, you can still recycle select plastic bottles at the Transfer Station. The neck of the bottle must be smaller than the base, the type of plastic has to be a 1 or a 2, and the bottle should be rinsed clean, with no cap.
These are the only plastic items that will be accepted
#1 PET
water bottles
sports drink bottles
2-liter pop bottles
salad dressing containers
vegetable oil bottles
juice bottles
You can also recycle glass bottles and jars (any color, up to 1 gallon in size with no lids) and high-grade office paper at the Transfer Station only.
At Grocery Store Glass Recycling Depots
You can drop off glass bottles and jars — any color, up to 1 gallon with no lids — for recycling at Rogue Disposal & Recycling glass depots in the parking lots of several area businesses:
Ray's Food Place (Central Point, Jacksonville, Phoenix)
Sherm's Food4 Less (Medford)
Sherm's Thunderbird (Medford)
Rogue Credit Union (East Medford Branch)
At the BottleDrop Center
You can take your redeemable beverage containers — glass, plastic and aluminum — to the BottleDrop Redemption Center in Medford where they're worth 10¢ each.